I am tromping through the (greater) Seattle landscape with
wild food calendars
in tow, reaching my arms far and wide to spread the good recipe word. I am having a number of calendar happenings in the next few weeks, come one and all to hear the wild food word.
Food- Ins
Cooking Demo
at the
Puget Sound Mycological Society's
Annual Fall Mushroom Show
.
I will be demoing this Saturday from noon to 2 pm on Saturday. I will be making the Kashmiri Morel Curry Recipe with dried morels from June in the 2010 calendar, and other mushroom goodies using fresh chanterelles and matsutake.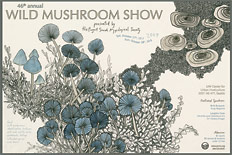 The exhibit features a fabulous display of hundreds! of mushrooms set up in a natural habitat (think overblown high school science fair). There is also an mushroom art contest gallery, talk by Langdon Cook of
Fat of the Land
, Mushroom experts to ID your forest finds, mushroom books, t-shirts, etc for sale, and a cooking demo kitchen open the whole time.
Admission- $7 general, $5 students and seniors, 12 years and younger free.
Saturday October 17th - 12noon to 7pm
Sunday October 18th - 10am to 5pm
The Center for Urban Horticulture (CUH), University of Washington
3501 NE 41 Street (Mary Gates Drive)
Seattle, WA 98195
The Corson Building Wild Foods Calendar Dinner
- November 16th
Chef Matt Dillon and I will be putting together a four to five course dinner featuring a couple dishes from the calendar and focusing the whole of the menu on seasonal wild mushrooms and other wild foods.
There will be two seatings - 5:30 and 8 pm. Reservation only.
Cost $60 and includes one copy of The Illustrated Wild Foods Recipe Calendar. Additional copies will be available for the special price of $10.
Make reservations
here
or call 206-762-3330.


Local Roots Farm Dinner-
All summer Farmers Jason and Siri have been hosting visitors to their farm in Carnation for tours and enjoying a meal featuring the farm's awesome produce cooked by local chefs. The date is not set yet but I will be doing multi-course dinner featuring wild dishes from the calendar and other foods from the farm. Like the Corson dinner it will include a copy of the recipe calendar.
In the summer the dinners are set outside in the middle of the fields, in the fall we head inside to the greenhouse to keep warm and dry. I did a dinner last week that was Asian- themed. A fun challenge to use as much seasonal and local foods for the dinner as possible.
The date will probably be either the Friday 30th of October or Monday the 2nd of November.
Donation- $90 and includes wine and a calendar.
Send Jason an email if you are interested or would like to be on the mailing list - jasonsalvo@earthlink.net.
the rustic local roots farm setting